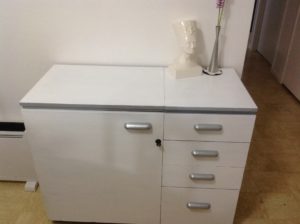 My Horn Sewing Cabinet – I have had this cabinet for over 30 years.  It was a 'brown', like many pieces of furniture back in those days, about 30 years ago.
I forgot to take a before picture but I'm sure you can imagine it.
This is the first piece that I have had problems with as far as the paint goes.  I used a Rustoleum chalk paint  in a grey but there were problems with the paint drying, no matter how long I left it, when the next coat went on it took some of the previous paint off.
I ended up mixing my own chalk style paint in a white and painted the top and front with that,  the sides and trim on the front I was able to leave and seal with Cabot water based Poly.  I used the previous drawer pulls, they were timber so I gave them a coat of white, then used silver 'Rub'n'Buff and sealed that with the Cabots.
I love this cabinet as it houses most of my sewing essentials and best of all, my machine is always at the ready, just flip the top back, the Horn Lift brings the machine up and I'm ready to sew.